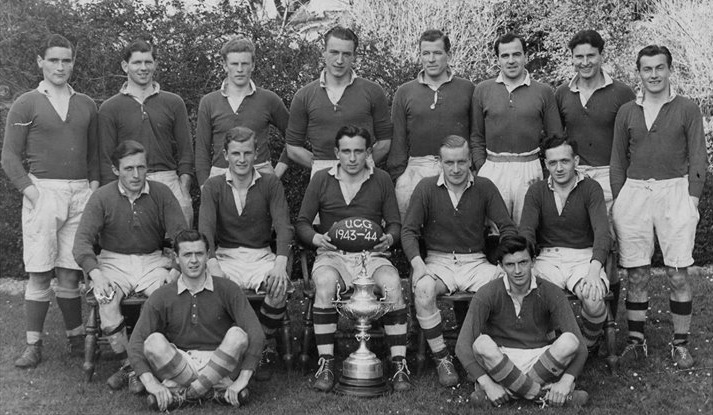 A founding member of the IRFU, UCG RFC was formed in 1874. The club boasts a long and proud history as a successful senior club that has fast tracked players to provincial and national honours. Amongst them, Ciaran Fitzgerald who captained both Ireland and the British & Irish Lions, is a notable graduate of UCG RFC who progressed via this route. The last student of NUIG to gain an international rugby cap whilst still attending the University was Neville Furlong in 1991/92, as part of the team who rattled the Kiwis.  Over its many successful years at senior rugby the club has contributed numerous players to international university sides, and at international level, 10 college players have been selected to play for their country, 4 while still members of this club.
The College has won more Connacht Cups than any other club in the province. The club has won the Connacht Senior Cup 34 times, winning it 3 years in a row on 5 separate occasions;1902-1905, 1907-10, 1922-25, 1934-37, 1943-46 (pictured above). In the 93/94 season, the club made history in becoming the first club to win the Connacht U20 Cup three times in a row. In doing this it also became the club with the highest number of U20 Cup wins. Together with the same record at senior level this now means that UCG has succeeded in winning more Connacht cups than any other club at all levels.
The club have had many successes down through the years, but a real highlight was the 1962/63 season when they swept the boards — they won the Connacht Minor League and Minor Cup, the Connacht Junior League and Junior Cup, the Connacht Senior League and Senior Cup, the OLBC Sevens and the Blake Sevens. This photograph shows the senior, minor, and junior teams with their trophies.
Front row, left to right: Steve Cunningham, Noel Carpenter, Des Berry, Billy Herterich, Seán Conneely, Pádraic Cassidy (club captain), Mr Lex Ryan, Joe Costelloe, Frankie Deacy, Jack Geary, Joe Fox, and Perry Lydon. Second row: Eamonn McGuire, Mickey Broderick, Morgan O'Connell, Billy Glynn, Noel Browne, Henry Blake, Mick Molloy, Johnny Greally, Frank Kerrane, and Ollie White. Third row: Gay Cooke, Millie Lynch, Ronan O'Malley, Larry Cheevers, Mick Roche, Eamonn O'Toole, Ger Cloherty, Michael 'Bomber' Browne, Luke Clancy, and Phil Callery. At the back are Kieran Freyne, Daithí Frawley, Dave Lillis, Dara Little, and Brian Emerson.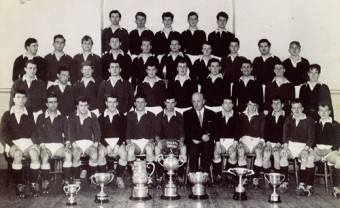 (Top photo courtesy of Desmond Moore, son of Arthur Moore.)